In NEW, the three choreographers, performers and spectators pick up on traces and fragments, appropriate past visual experiences and give physical expression to these memories to give them back to the audience.
We go to the theatre and watch a performance. We are moved by what we see. We remember what we saw the next day, the next month or the next year. We personify what is left behind, and change the view of what we have seen. We invent traces until their source is no longer clear, make up something new, arrange it and layer it until something different emerges. The process of remembering becomes a form of thinking, structuring and physical expression. The spectator becomes the curator of his own memories and his body becomes the backdrop for his memories.
What is left of the original performance? How does the act of memory and the process of forgetting change the original? How do 'new' bodies change it too? What context do they provide? In the process of transferring the past to the present, gaps appear that are filled with personal stories.
Very subjectively, the three performers question the development of a performance after it's been shown, in an appeal to their own and collective memories of events that are subject to the transience of time and resist constant recall.
CREDITS:
Concept: Ayara Hernández Holz and Felix Marchand
Choreography and performance: Ayara Hernández Holz, Felix Marchand and Irina Müller
Light design: Benjamin Schälike
Visual Typography: Arístides Job García Hernández
Production and press: Björn & Björn
A production by LUPITA PULPO with support from the Tanzfabrik Berlin. Funded by the Governing Mayor of Berlin – Senat Chancellery – Cultural Affairs.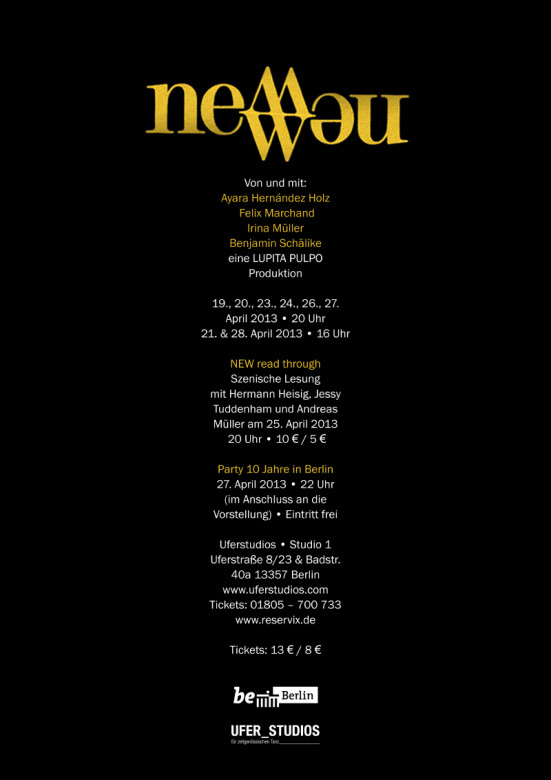 En NEW los tres coreógrafos, performers y público retoman fragmentos, vestigios de obras que han quedado en su memoria para apropiárselos y devolverle cuerpo a esos recuerdos en el intento de crear lo nuevo.
Vamos al teatro, vemos una obra que nos mueve, que recordamos al otro día, al mes o al año, en medio de una conversación en un bar o en una fiesta… Personificamos esos recuerdos, cambiamos el punto de vista de aquello que vimos. Inventamos nuevos trazos hasta que el evento "original" desaparece y creamos a partir de ellos algo nuevo. El proceso de recordar entonces se convierte en una forma de estructurar nuestro pensamiento y de expresión física. Como espectadores nos volvemos los curadores de nuestras propias memorias y nuestro cuerpo nuestro contenedor.
¿Qué es lo que queda de la obra original? ¿Cómo el acto de recordar modifica lo recordado?
En el proceso de transferencia de un evento pasado al presente aparecen huecos que tendemos a rellenar con otras historias, recuerdos personales… Desde la pura subjetividad (entendiendo esta como un proceso de reinvención y no de aislamiento) los tres perfomers cuestionan el devenir de la performance después de su presentación pública. En relación a una memoria colectiva y personal de un arte vivo que esta sujeto a su naturaleza efímera y que resiste su repetición
CRÉDITOS:
Concepto y dirección artística: Ayara Hernández Holz und Felix Marchand
Coreografía y performance: Ayara Hernández Holz, Felix Marchand and Irina Müller
Diseño de luces: Benjamin Schälike
Tipografía visual: Arístides Job García Hernández
Prensa y producción: Björn & Björn
Una producción de LUPITA PULPO con el apoyo de Tanzfabrik Berlin. Y financiado por el Senado de Berlín.
NEW BERLIN 2013 from lupita pulpo on Vimeo.
Photos (Click to enlarge the pictures)
Photos: Nacho Correa.
Performed: Uferstudios / Berlin, Frankfurt (Oder), FIDCU / Montevideo.