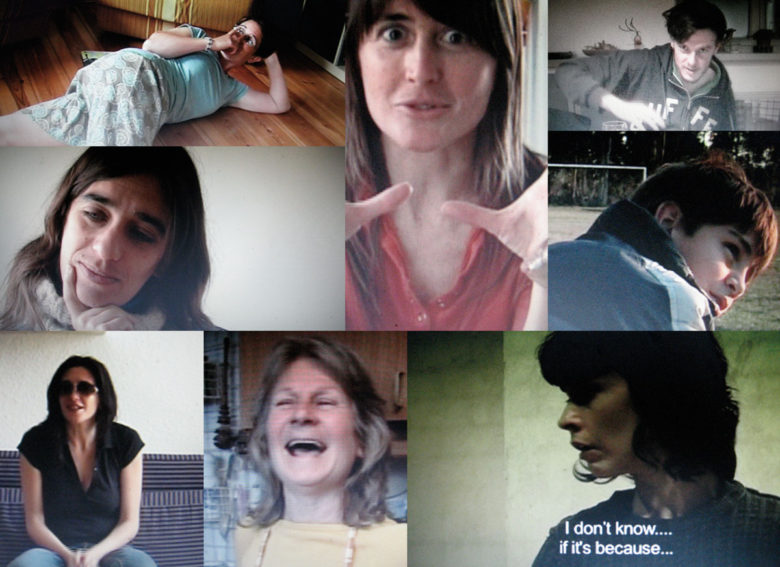 t r a c i n g is a collection of testimonies of audience members recalling a performance. This collection is presented in video and sound performance installation.
In the last years, I have been inviting people from different cultural-social contexts to meet and tell me a memory of a performance they wished to recall. I have been filming those encounters. The choice of who I invite or which performance is recalled is determined by pure desire; my desire to share this experience with that person, and her/his desire to remember this or that performance.The purpose is to create a frame for the emancipated life of remembering. As a choreographer-dancer I am curious; on the one hand to see what is left in people's memory after a performance is "gone". On the other hand I want to call into question the authorship of a performance. By bringing into light the voice of the audience, their memories become a sort of organic documentation of those performances. At the same time, through the impossibility of remembering the performance as it was, the people end up inventing a "new" performance in their mind. Reviewing the performance in our memory is, somehow, to ascertain that we have appropriated that which we have seen.
t r a c i n g  is an archive of videos contained in an installation, contained in a performance.
It deals with the question of: What remains of a performance in the memory of the audience?
t r a c i n g explores how the memories of an event can be seen as an evidence of the becoming of the performance after its public presentation. t r a c i n g is an installation constructed within a length and a dramaturgy of a performance.
Performance-installation: Ayara Hernández Holz
Mentors: Nik Haffner y María Muñoz
Translations: Elena Oña, Sabina Carrao y Ayara Hernández Holz.
Thanks: To all participants of the videos, specially to  Toni Cots, Ric Allsopp, Ixiar Rozas y Felix Marchand.
Estreno 11 de Junio 2009 en L'animal a l'esquena
En los últimos años invité a varias personas de distintos contextos socio-culturales a que me contarán sus recuerdos de una obra escénica que a ellos eligieran y quisieran recordar. Yo filmé estos encuentros. El acuerdo con cada persona era que podía elegir el lugar donde ser filmado/a, la performance que quisiera recordar y que podían hablar todo lo que quisiera sin que yo los interrumpiera. Las decisiones de quien invitar a formar parte de este trabajo o que obras recordar fueron determinadas por el puro deseo; mi deseo de compartir esa experiencia con esa persona y su deseo de compartir ese recuerdo conmigo. Mi propósito con ello fue crear un espacio donde la vida de esos recuerdos se emanciparan en algo nuevo. Como coreógrafa y bailarina me interesaba por un lado, ver que queda de una obra escénica después de su supuesta "desaparición" y por otro lado poner en cuestión la autoría de la misma en su devenir y diseminación. Al darle voz y cuerpo al público, estas memorias se convirtieron en una documentación orgánica de las mismas. Al mismo tiempo al enfrentar la imposibilidad de recordar las obras tal cual fueron, las personas terminaron muchas veces inventando una "nueva" obra en sus mentes. Es por ellos que estos documentos van mucho mas allá del intento de reconstruir una obra. Porque revisar la performance en la memoria es, de alguna manera, constatar que el espectador se ha apropiado de aquello que ha visto.
t r a c i n g es una obra escénica que se sitúa en el cruce entre una práctica archivista y una instalación. Es presentada como una performance de videos, luz y sonido, donde cada espectador es libre de elegir su recorrido por la misma. t r a c i n g recopila video-testimonios de varias personas recordando obras escénicas.
Performance-instalación: Ayara Hernández Holz
Mentores: Nik Haffner y María Muñoz
Traducciones de los videos: Elena Oña, Sabina Carrao y Ayara Hernández Holz.
Agradecimientos: a todos los participantes de los videos, y especialmente a Toni Cots, Ric Allsopp, Ixiar Rozas y Felix Marchand.
Presentada en/ Performed: L'animal a l'esquena/ Catalunya, Uferstudios, (SODA works) Berlin, ADA/Uferstudios, Berlin., PSI conference/ Utrecht, Paltaforma Berlín, FIDCU/Festival Internacional de Danza Contemporánea del Uruguay), IPAM / Graner, Barcelona, Tanznacht Berlin 2016, Pliegues 2017, Bogotá.
PICS: