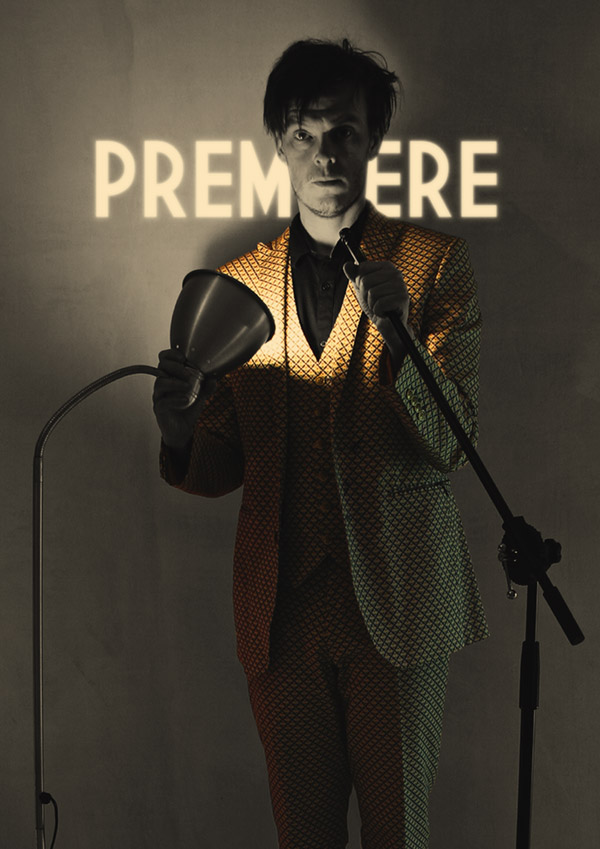 (DE)
PREMIERE
Jeden Montag im März
7./14./21./28. März 2016
jeweils um 19:00
Eine LUPITA PULPO Produktion
Ein Solo von und mit Felix Marchand
www.dock11-berlin.de
PREMIERE ist ein Solo, welche die Regel der Stand-Up-Comedy auf eine Tanz-Performance adaptiert.
Ein Mann stolpert auf eine nackte Bühne. Es läuft Musik. Ein paar Requisiten befinden sich auf der Bühne. Die volle Aufmerksamkeit des Publikums ist auf Ihn gerichtet. Er ist entblößt und muss nun auf diese Situation reagieren. Er fängt an auf die Musik zu tanzen. Er bricht ab. Von diesem Moment an entfaltet sich eine absurd, komische und clowneske Reise durch das Scheitern des Protagonisten.
Es ist ein Spiel zwischen der Erwartungshaltung des Publikums und deren Erfüllung oder Nicht-Erfüllung des Performers. Dabei seziert er jeden Moment; verhandelt mit sich, seiner Umgebung und dem Publikum was als nächstes passieren kann. Er schlüpft dafür in unterschiedlichste Charaktere und kreiert Situationen voller Fallen. Sie erlauben ihm immer neue unerwartete Wendungen einzuschlagen.
PREMIERE ist Komik auf höchster physischer und verbaler Ebene. Es ist Tanz. Es ist Sprache. Es ist Geräusch. Es ist Mimik. Es ist ein Spiel mit Objekten.
PREMIERE ist Teil von Felix Marchand laufender Recherche zu dem Thema Komik und Bewegung. Dabei stellt seine 14jährige Karriere als Performer und Choreograph das Fundament für diese Auseinandersetzung dar.
Eine Ente betritt einen Supermarkt. Ein Clown betritt eine Bar. Ein Astronaut betritt eine Bank. Ein Stand-up-Comedian betritt ein Tanz-Theater-Saal. Er ist verunsichert. Er hat anscheinend die falsche Abbiegung genommen. Er ist falsch. Er ist verloren. Er will fliehen. Eine Reihe von absurden Situationen bahnen sich an; eine Ente jagt ein Kind, ein Clown erzählt schlechte Witze, ein Astronaut flirtet mit einer alten Dame, der Stand-up-Comedian ist in seiner eigenen Premiere gefangen, ein Alptraum.
Konzept, Regie, Performance: Felix Marchand
Co-Regie: Ayara Hernandez Holz, Silke Z.
Dramaturgie: Ayara Hernandez Holz
Recherche und Künstlerische Mitarbeit: Silke Z.,Angus Balbernie, Eno Krojanker
Lichtdesign: Benjamin Schälike
Presse und Öffentlichkeitsarbeit: björn & björn
Produktion: LUPITA PULPO /  Silke Z. resistdance, gefördert von Kulturamt der Stadt Köln, Ministerium für Familie, Kinder, Jugend, Kultur und Sport des Landes NRW, Kunststiftung NRW, Kölner Künstler Theater (KKT)
Mit freundlicher Unterstützung von Casarrodante
Gefördert aus Mitteln des Regierenden Bürgermeister von Berlin – Senatskanzlei – Kulturelle Angelegenheiten
(EN)
PREMIERE
A duck enters a supermarket, a clown enters a bar, an astronaut enters a bank, a stand up comedian enters a dance theatre. He is confused, he is wrong. He is lost. He wants to scape. A series of absurd situations are happening; the duck goes after a kid, the clown tells a bad joke, the astronaut flirts with an old lady, the stand up comedian cannot go out of his own premiere, he is trapped. It is a nightmare. The audience are sitting quietly and well-behaved in perfect lines, they are staring at him. Nobody has introduced him. The space is too big and the floor too black. His suit feels too tight. Where are his dancing leggings? His body is enchanted; his movements become his jokes and laying around objects his toys.
PREMIERE is a show, which adapts the rules of a stand up comedy into a dance performance.
PREMIERE is part of Felix Marchand ongoing research on comedy. Last year he created STAND UP in collaboration with Silke Z.
Concept, director and performance: Felix Marchand
Co-director: Ayara Hernández Holz, Silke Z.
Dramaturgy: Ayara Hernández Holz
Research und artistic contribution: Silke Z., Angus Balbernie, Eno Krojanker
Light-design: Benjamin Schälike
Press: björn & björn
Production: LUPITA PULPO, Silke Z. resistdance (funded by Kulturamt der Stadt Köln, Ministerium für Familie, Kinder, Jugend, Kultur und Sport des Landes NRW, Kunststiftung NRW, Kölner Künstler Theater (KKT) 
Support by: Casarrodante
Funded by the Mayer of Berlin – Senatskanzlei – Kulturelle Angelegenheiten /